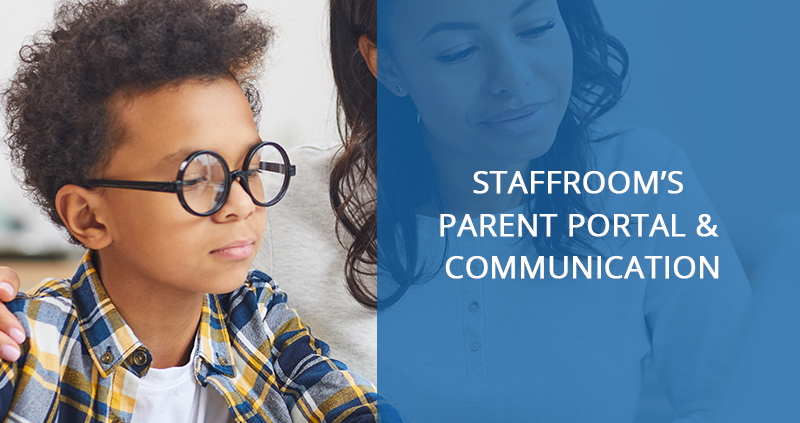 The news of the first few COVID-19 positive cases in South Africa set us off on an unprecedented journey for all sectors – but especially the education sector. Parents, teachers and learners alike were thrown into the deep end as schools were closed (indefinitely) in March 2020.
In an attempt to ensure that no learners are left behind, schools had to find innovative ways to accommodate distance learning and online learning – or more of a crisis learning approach. Key to the success of this process has been communication with parents. While this has always been an important part of a successful parent-teacher-child relationship, COVID-19 has highlighted just how important it is.
One of Staffroom's features exists to facilitate exactly that – communication between the teachers, parents, and learners. The Parent Portal (also known as InTouch Portal) shares information about the relevant family and the school.
What is Parent Portal used for?
Schools can use the Parent Portal to share all the relevant information regarding a school child with families. This includes all school activities, calendars and events. What makes this effective, is the convenience and ease of use to share a variety of information relevant to a particular family and their child. School's can brand this portal with their own school branding and share unique content with parents.
Information included can relate to, for example:
School announcements
Upcoming events
Calendar and timetable information
Student & family contact information
Student journals
Correspondence sent to the family
Homework tasks
Attendance records
Assessment marks
Student behaviour
Copies of term report
In Your School's Hands:
The InTouch or Parent Portal is completely separate from the Staffroom site. This means the school can control and manage what information they would like to share with their parents and learners on the portal. It is your own, unique site – with its own web address (URL). The site also allows for simple branding, so that the school's portal reflects relevant brand colours and the logo of the school.
Information that matters:
Families can access information on the Parent Portal that is customised to their family.
This means, parents do not have insight into other children – they would view:
Information about their children only
Parents only announcements related to events, grades, classes or any activities that their children participate in
Learners would only see events and information that relate to their specific grade, class or groups they are part of.
Next steps?
If your school is already using Staffroom, but you are not using Parent Portal, please get in touch with our support team today to assist you.
If you are interested in Staffroom and all its other great features as a school management system, contact us for an obligation free demo.
What do schools think about Staffroom? Shandre Otto, Zwaanswyk High Principal, shares their experience.
https://www.mystaffroom.net/wp-content/uploads/2018/06/Staffroom-new-parent-portal.png
800
800
Staffroom
/wp-content/uploads/2018/06/Staffroom_Logo_White.png
Staffroom
2020-06-30 11:16:21
2020-06-30 11:16:22
Communication through Staffroom's Parent Portal Proves of Great Value in the Time of COVID-19