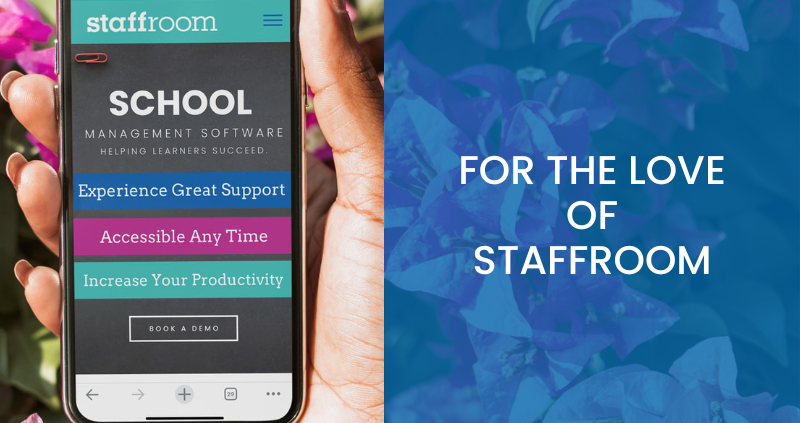 Staffroom has been capturing the hearts of educators since 2009. We aim to keep our clients happy and make their schooling career a little less stressful. We love working in education and solving our school clients' problems.
At Staffroom we made sure that the features and the support we offer adds value to your school. We actively and constantly think about how to use technology for the real practical benefits it can bring educators, parents and students.
We spoke to some of our clients about how Staffroom has changed the way they do things, here is what they had to say:
What have you been able to achieve since using our Staffroom?
At Claremont High School, Alex the System Administrator says that they have centralised their marksheet from all the subjects. The educators at Claremont High School are able to access marksheets when they are not at school, unlike pre-Staffroom when they had Staffroom on a networked drive which required them being in the building. Their absentees system is now simplified and digitised. They have been able to keep records in the 'journal' function for each student and have access to parent information in a few clicks.
If you had to choose one, what would your favourite feature of Staffroom be?
The ease of editing and altering marksheets impresses Alex from Claremont High School and the fact that parents can track learners academic records throughout the term while being provided with a solid communication platform is what impresses Hendry from Fairmont High School.
"I have found Staffroom to be a proficient means of collating, storing and retrieving sensitive information about our students. All the information is in one place and is easy to manage." – Jacqui @The Academy
How would you rate our customer support service and why?
We have got feedback from Alex to say that the support that they receive at Claremont High School is excellent and Shane and his team are ALWAYS willing to help when he calls for assistance.
"A big positive for me, is their excellent support channel with quick feedback and continuous development." – Hendry @Fairmont High School
Jacqui from The Academy says that the staff are efficient and always willing to go the extra mile for queries. They do not let your query become closed until you are totally satisfied that it has been solved. The support team is also open to hearing about recommendations that would make using the system easier.
Anything that comes to mind when you think about staffroom?
For Alex it is the efficiency of the support team and for Hendry it is the fact that Staffroom is an admin-saver enabling them to interact any device, anywhere, to get the job done.
I would recommend them to any school looking for a school administrative system" – Jacqui @The Academy
What we love?
We love Staffroom because of how it's encouraging South African schools to move forward into the 4th industrial revolution. Staffroom enables schools to better communicate with parents and students.
Our Staffroom support consultant Ntombi enjoys working on the Assess Module, specifically the Report design requests that clients send through. It's quite challenging sometimes but the finished work is satisfying.
When clients have been assisted and they respond back with appreciation, especially during the hectic end of term buzz, the job done feels worth it.
We love our job because it allows us to be in the forefront of migrating schools into the new era of the digital world. Teaching and equipping schools with the skills to perform their activities more effectively, making it easy for educators to focus on the core duties of teaching.
We also love our morning coffees, hot pizza, sea breezes and sunny Saturdays.
This review was supplied by our loyal clients who we appreciate dearly. Want to learn how you too can benefit from using Staffroom as a school administrative system? Reach out to our friendly sales and services teams today for an obligation-free demonstration. 
https://www.mystaffroom.net/wp-content/uploads/2022/10/Copy-of-STAFFROOM-BLOG-HEADER-800x800px-2.png
800
800
Staffroom
/wp-content/uploads/2018/06/Staffroom_Logo_White.png
Staffroom
2022-10-31 11:33:28
2022-10-31 11:35:26
For the Love of Staffroom